We sold all the pups from the last litter! They were all accounted for at age 2 weeks
But we have puppies coming the week of January 25, 2002 out of
Nichodemus and Apple!!!

For more info see BREEDING PAGE

---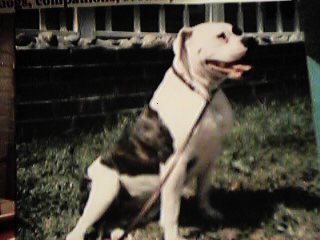 JDJ Collette Rose
Kristol's Jack the Brusier & Wheeler's Miss Bully Deenine
She was bred by Roy Wheeler
She was our first Dam
"Mel"(see STUDS page) and Collette "Rose" have had two
gorgeous litters of puppies!! Click to see Mel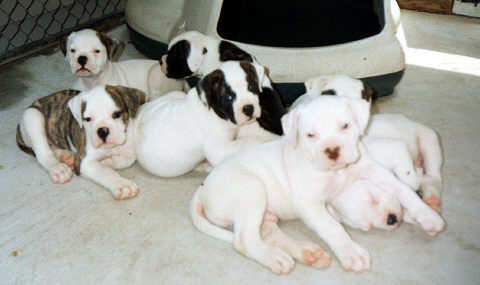 Born on Fathers day 1998! The Magnificent 7!
Nice present for the playful father!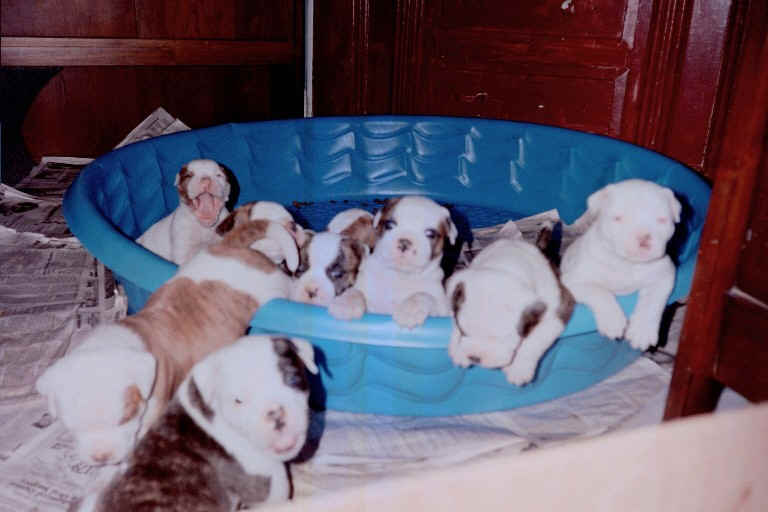 Second incredible litter born on Feb. 6, 2000 !!!
NINE Females (omigoodness) aka The Spice Girls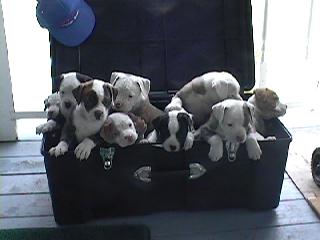 Big Sky's most recent litter- the "Perfect 10" litter born on 2/26/01.
Five boys and Five girls!! (you have to watch what you pray for)
They were out of "Rose" and Jame's Flynn's "Chesty".
"Chesty"- is a Red Machine Male who is totally awesome!
To see Chesty click here chesty
He is available for stud! See Studs Page. See Chesty's Pedigree
puppy #1 female " Trinity" owned by Tim Moore in NY State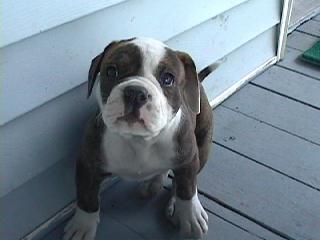 See Trinity now: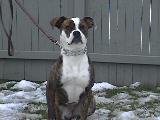 sweet!!


puppy #2 female "Jazz" owned by the Demshick family in NY State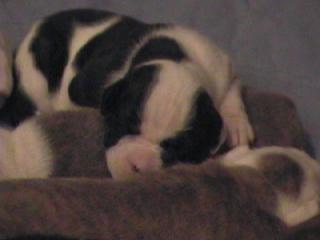 oh my! See Jazz now at 8 months--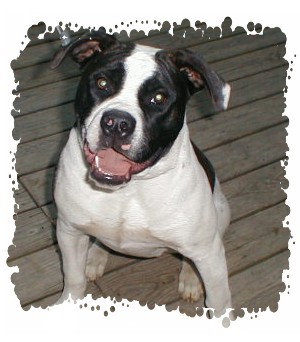 puppy #3 female owned by The Herring Family in NY State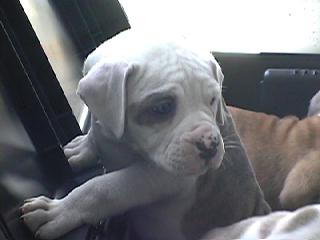 puppies #4 and #5 females now owned by the Green's in Mesa AZ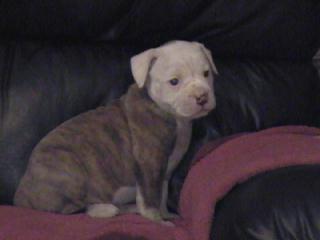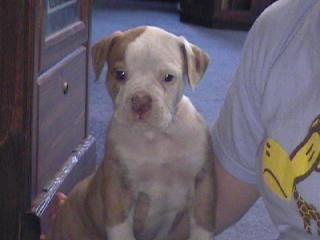 NOW FOR THE MALE PUPS:

Puppy #1 Male owned by Eirik Certo of NY State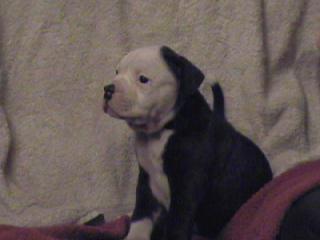 Maximus!!
See testimony in guestbook
See Him now: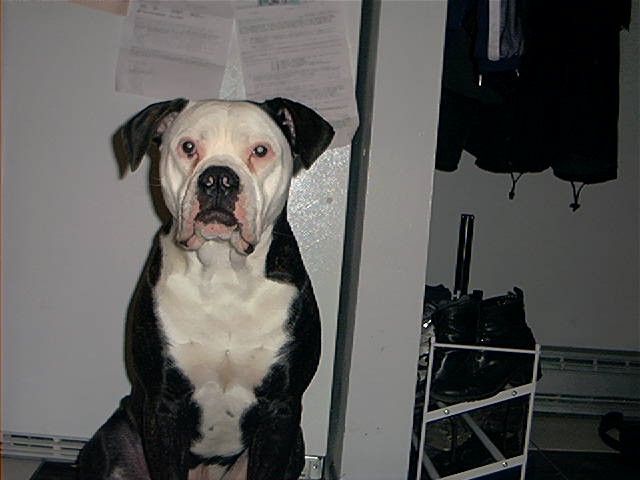 Maximus is an incredible bulldog who's 8 months old in this pic. He's weighing 95-100lbs
now with Super good disposition and "High" prey drive to match.. Watch him grow, if he's here at
8-9 mo? Where is he going to be at 3yrs of age? Stud material for sure!
Puppy #2 male owned by the Benamati family of NY State
"Ezekiel" aka "Zeke"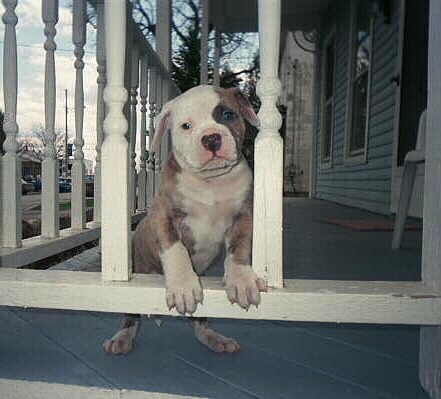 zekestestimony.txt
See Zeke @ 9 months old!


What makes a good "Stud" dog well everything that
"Zeke" has, genes, the right drives, good conformation, great disposition.He's got it all!
Weighing 100lbs he's going to be "Stud" material for sure!
Super athletic and a great protector of his family especially the children.

Puppy #3 male owned by the Quezada family of California
"Hoss"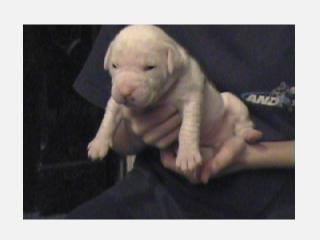 Puppy #4 male owned by the Parks family of NYC
"Chesty Jr." aka "Blitz"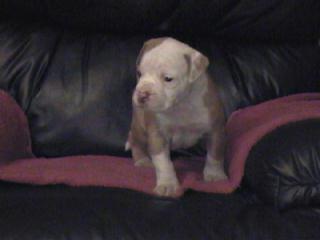 Puppy # 5 male, (definitely not the least), owned by Jacob Rodel in MN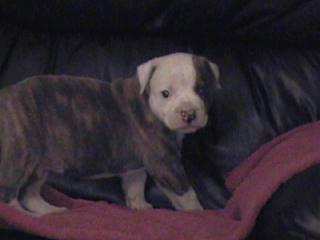 Look at him now!!!


look close you will see his master under his head
---

To see more puppy pictures from our first two litters
click on these bulldoggies
NEW PHOTO--" Rocky"
Dozer
Apple
Esther Minnie
Big Sky's Genesis
Genesis now
Monteros Genesis view their testimony monteros
Gabriel
Mabel pup
mabel now
Maxie
Hannah
Fela Kuti
Lulu Update!!
Scarlet pup
Scarlet now!
Bungee

---
Prices for the pups @ Big Sky start at $1,000
Here at Big Sky we are not a puppy mill!
In 10 years of american bulldogs we have had 3 litters.
Any time we breed, the breeding will be only for the betterment of this spectacular breed. We have researched, crossed thousands of miles, and spent thousands of dollars to achieve these goals.
We do not cut any corners.
We truly believe in giving special attention and affection
to each puppy. This is our hobby, we have no children,
hence these american bulldogs are our "kids".
The pups are socialized to be family pets and are naturally protective!
If you are a prospective american bulldog buyer and want an a.b. pup for illegal reasons please leave this site now!

---
We will airship pups within the continential US
via Delta Dash at buyers cost